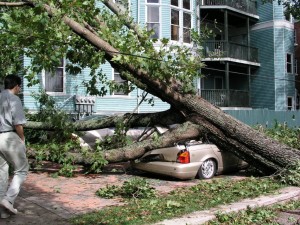 At 12:10 a.m. ADT, Monday September 29, 2003, Hurricane Juan made landfall in Nova Scotia between Shad Bay and Prospect.
Juan arrived as a Category 2 storm and ripped northward through the province, weakening quickly as tropical cyclones do over land, arriving in Prince Edward Island as a marginal hurricane.
Juan claimed the lives of eight individuals: two when trees fell on their motor vehicle, two fishermen near Anticosti Island, three in a house fire speculated to have been started by candles used during the power outage, and one involved in relief work weeks after the storm.
Hurricane Juan will be recorded as the most damaging storm in modern history for Halifax, N.S. (as measured by the widespread tree blow downs, power outages, and damaged homes).
Hundreds of thousands of Maritimers in Nova Scotia and Prince Edward Island lost power when the storm passed Sunday night. NS Power reported that the last of their affected customers had power restored by the morning of Sunday October 12 – just short of 2 weeks.
Although there was plenty of notice regarding the hurricane, many families were not prepared for the devastation caused by a Category 2 storm. Most people think hurricanes, earthquakes and other natural disaster only happen in other countries when in fact Canada has had its share. Here are just a few examples which highlights the fact, natural disasters can strike anywhere at anytime.
1) The Nova Scotia Hurricane of 1873 struck during August of that year and quickly became one of Nova Nova Scotia's worst hurricanes. The storm destroyed 1200 ships and 900 buildings in Nova Scotia while killing at least 223 people.
2) Frank Slide is a rockslide that occurred in April 1903 in the town of Frank in what is now Alberta. In the early morning hours of April 29, 82 million tons of limestone slid down the face of Turtle Mountain in only 90 seconds demolishing the eastern edge of the town, the Canadian Pacific Railway line that ran through the town, and the coal mine under the mountain. Nearly 70-90 people were killed and still lie buried beneath the rumble. A similar slide and considered Canada's largest slide occurred in Hope, BC. It occurred in the morning hours of January 9, 1965 in the Nicolum Valley in the Cascade Mountains near Hope, British Columbia, and killed four people. The volume of rock involved in the landslide has been estimated at 47 million cubic metres
3) And tornadoes are no strangers to Canada and one of the most infamous is the Edmonton's twister, which struck on July 31st, 1987.  It is one of the most well known tornado events in Canadian history and is the province of Alberta's worst disaster in recent history.  It is the 2nd most devastating tornado is Canadian history rated a category 4 with some expert believing it was a strong as a category 5. In the end 27 people were killed, more than 300 injured, over 300 homes destroyed, and more than $550,000,000 in damages to first the town of Beaumont, then Edmonton itself, and surrounding areas.
So the question is, are you prepared?
Do you know how to turn off your gas?
Do you have an emergency kit for your family?
Do you have a plan to take care of your pets?
How will you reach loved ones who may be working and what is the plan for them to get word to you that they are ok?
These are just some of the many questions that you need to think about. And don't assume help will be arriving anytime too soon especially if your situation is less critical than other areas.
When disaster strikes, it may take emergency responders some time to arrive, as they attend to those in most critical need. The Neighbourhood Emergency Preparedness Programs are designed to help individuals and neighbours prepare to be self sufficient for an extended period of time. It is natural for neighbours to come together and to help one another during times of crisis so this page has been created to provide some information on how to help your family and neighbours.