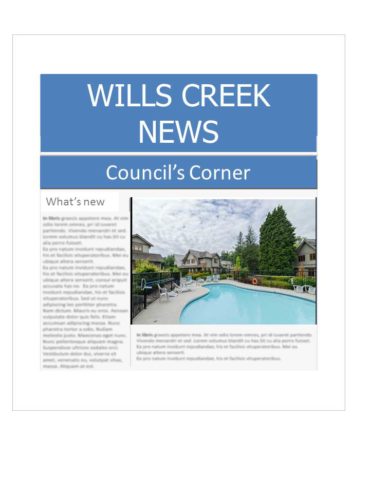 Sense Engineering has completed the basement investigation of 36 Units in our complex this past week. Thank you for the assistance of all these home owners. When the results are received they will be  published in the January Strata Council Minutes.
A Huge thank you to Eric and Mary Batut  for their contribution of lighting apparatus to our Amenity Building and pool area.  It looks very festive and is much appreciated by all our ownership. Another Huge Thank you to Eric Batut, Darrien Matthews and Ken and Cathi Smith for taking the time (in the rain) to install the lights for all of us to enjoy.
A lovely afternoon was spent today – Sunday December 3rd –  hosted by our Social Committee today in the Amenity Building. Preparations were made in advance to decorate the room and provide lovely baskets for our raffle and create an opportunity for our community to meet and celebrate the holiday season. All proceeds from this event are going in support of this year's charity Ishtar House. Next week we will advise the total amount our community gifted to this well needed charity organization in our community. A special thank you to Bill & Albina Pedersen for their contribution for the set-up requirements for this event. Our Social Committee does such an amazing job – Thank you to Elizabeth Matthews, Irene Buch, Colleen Jones, Kelly Mcelroy,  Cathi Smith and Connie Peters.
A heads up for this week – Gutter Cleaning is happening.
Champion Window and Pressure Cleaning Services will be onsite to perform gutter cleaning on Monday, December 4th to Wednesday, December 6th. between the hours of 8:00 a.m. – 5:00 p.m. daily.
The contractor reminds that for privacy, you may want to close your blinds. If applicable, please cover any patio furniture and accessories to avoid water spillage. Your cooperation in this matter is greatly appreciated. Champion be cautious, however, is not responsible for damage to any items that are left out during this service.
Wills Creek – "Creating Community, Experience the difference. "